The official start of the Las Fallas 2020, the grandest celebration in the Valencian Community, will be on Sunday, the 1st of March. The opening of the celebration is marked separately by two different events, although they both have the same goal: to invite all Valencians at the grand upcoming party.
The first event takes place in the morning, and it's called La despertá, "The Awakening", while the second one takes place in the evening and it's called Crida, "The call".
Also, on Sunday morning, other events related to Las Fallas 2020 will occur.
La Desperta
La Desperta, or The Awakening, is a manifestation that consists of throwing low intensity firecrackers on the pavement, early in the morning, on a pre-established route. The objective is to wake up the neighbours and to invite them to take part in the upcoming celebration.
Hundreds of firecrackers fill the streets with smoke and noise in a couple of seconds. As the manifestation moves forward, the noise becomes deafening and the air unbreathable. That is why most of the participants cover their mouth and nose. People that do not know the significance of this manifestation and see a video recording of it, could believe that a war has started.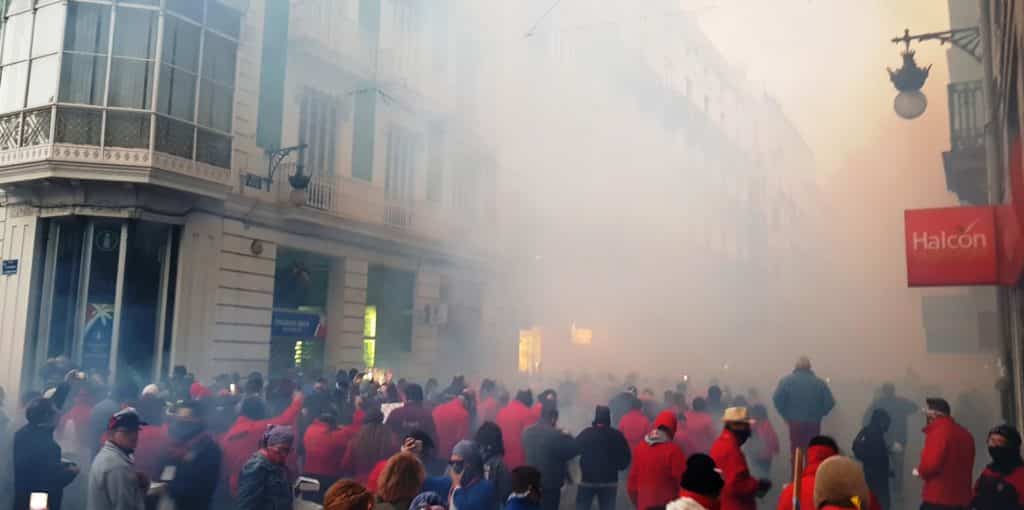 Who can participate
The event will be attended by active participants, or the fallers, who receive firecrackers and visitors that can join the group but won't receive firecrackers.
The Fallers are members of the neighbour associations responsible with the organisation of Las Fallas. They possess a certificate issued by a competent authority, which attests the fact that they know how to use firecrackers.
The visitors are welcomed to take part in the event, without any other formalities. The participation is free.
Starting time
The Awakening has two parts, one for children, Despertá infantil, which starts at 7:20, and one for adults, Macrodespertá which starts at 7:30.
The route
The starting point will be on the Calle la Paz (Jargines de la Glorieta entrance), continuing with Calle San Vincente Martír, and ending in Plaza del Ayuntamiento.
To form an opinion about The Awakening, you can watch a video I took last year, here:
Other events, Sunday, March 1st
With the occasion of Las Fallas 2020, other events will also occur:
Music bands parade, performing traditional Valencian music, at 12:00 in Plaza del Ayuntamiento.
Mascletá, the pyrotechnic show, at 14:00 in Plaza del Ayuntamiento.
How to reach Plaza del Ayuntamiento
During Las Fallas 2020, the EMT buses that pass through Plaza del Ayuntamiento will have a diverted route.
The means of public transport which have stops near Plaza del Ayuntamiento are the following:
EMT Buses, lines 70, 72, 73, 7, 11, 13. Check how you can travel by EMT Buses across Valencia, here.
Metrovalencia, lines 3, 5, 9 or 7. Check how you can travel by metro across Valencia, here.
Valenbisi. Check the nearest station here.